Yep, That new Horror game that made it onto steam greenlight.
Five Nights at Freddy's
is a spin on horror games. They usually have you try to run away from the killer but instead you are trapped inside of a room with 3 killers roaming around, 1 hidden one and 1 that comes out whenever he pleases.
These killers are as stated
Freddy Fazbear
: The
least
of your problems. Unless your on Night #3 or farther, then he can be a problem. Takes the right path and plays music where ever he goes. His eyes become jet black on night #4 above which makes him easy to spot.
Chica the Chicken/Duck
: No one knows
what
animal chica is. She closely resembles a duck. She goes the same path as freddy. Since the camera in the kitchen is down and audio can be heard only, Chica runs into pots. She is the only one who sneaks in when you have the camera up. Go away you fat ugly chicken monster.

Foxy the Pirate
: Ah Foxy, The animatronic which caused the bite of '87 (Will be mentioned later), Foxy actually is the only one who sprints to your office as shown here: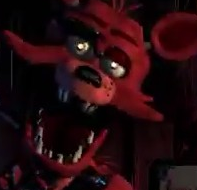 Bonnie the bunny/ Mr. Bun buns
: The
only
one capable of teleporting, disabling cameras
and
your door switch.

Golden Freddy
: "The Hidden killer of Freddy Fazbear's Pizza". Not much people know about him. As he is only summoned two ways, the first way is this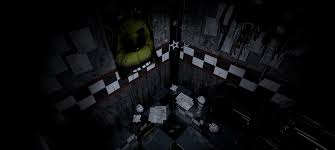 and the second way is this
Ok, now on to the important stuff ABOUT the story.
First lets start of with the fact the Resturaunt is going bankrupt. Why? Because 5 kids murdered here. Oh and cannot forget the bite of '87. It was some month during 1987 when a casualty was reported. It wasn't an ordinary casualty. Why?
Because the victims frontal lobe (big huge chunk on the front of your brain) got chomped off by a certain fox.
The parents had requested that Pirate cove was shut down immediatly and the robots had to be taken off of Free Roam mode in the morning. following the incident. But a few months later, a guy in a Freddy Fazbear suit lead 2 kids into the back stage and
MURDERED
them and stuffed them into the animatronics. Then later 3
more
kids got killed and stuffed into the animatronics. The parents then reported of blood and mucus oozing out of the animatronics and they had a foul stentch to them. THE ROTTING BODIES OF THE MURDERED KIDS. How does Golden Freddy fit in this? Well, Speculations say that it was one of the kid's spirits who created a mental copy of Freddy, I speculate it's just a god damned demon. But then where did the phone guy go on the 4th night? INSIDE OF CHICA. CHICA HAS HUMAN MOANS INSIDE OF HER. PRETTY DAMN CREEPY. Well, This ends this rant.